The Create Person Form feature allows you to create a web-based form which will create a Lead, Contact or Target record in SuiteCRM from the information submitted on the web form. These records can be assigned to a particular user and are linked to a campaign so responses can be tracked.
You will need to relate your Web-to-Person Form to an existing campaign. See the Create a Campaign section for instructions on how to do this. A non-email based type campaign is suitable for this
Click Create Person Form on the sidebar, or select Create Person Form from the Campaigns dropdown menu to open the wizard.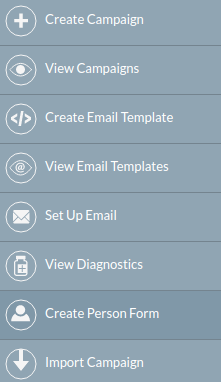 Create Person Form Wizard
Select the type of record you wish to create from the web form information: Lead, Contact or Target, from the dropdown at the top. The list of available fields will update automatically following your selection. Use the scroll bar to see the complete list of available fields.

Drag and drop the fields you wish to include on the form into the empty form columns. You have the option of a one or two column layout. You must include any required fields (these are indicated with an asterisk* and are highlighted in the list).
Click ADD ALL FIELDS to add all available fields to the form. Clicking RESET ALL FIELDS will remove all fields from the layout columns.

Once the required fields have been added, click NEXT to continue.
Create Person Form – Additional Information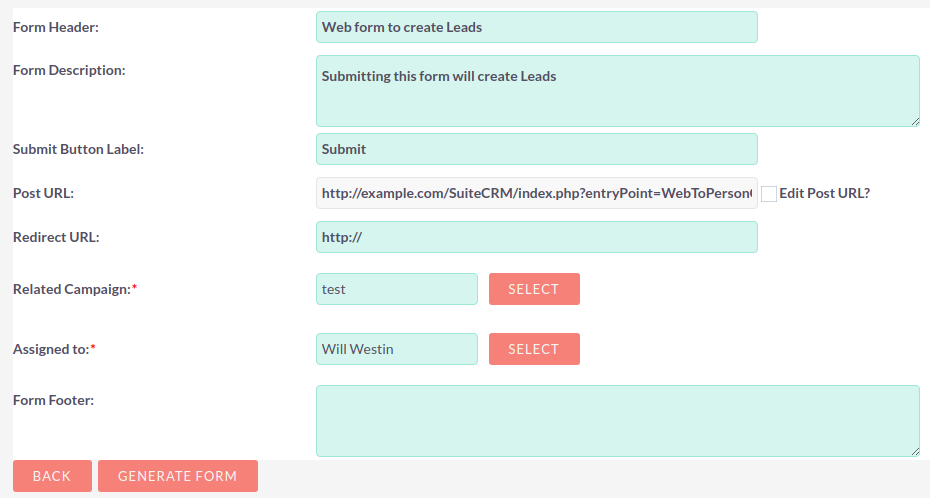 Configure the web form's appearance by adding a header or footer and changing the label for the form's submit button if desired.
Redirect URL: Specify a custom link to display once the form has been submitted.
Related Campaign: You must relate the form to an existing campaign. Click SELECT to select the campaign from the popup.
Once complete, click GENERATE FORM
Create Person Form – Editor
The final step of the Create Person Form Wizard allows you to format the web form you have setup using the editor. Font type can be selected, colours changed, text alignment chosen and images can be inserted. View and edit the HTML directly by clicking the HTML link on the toolbar.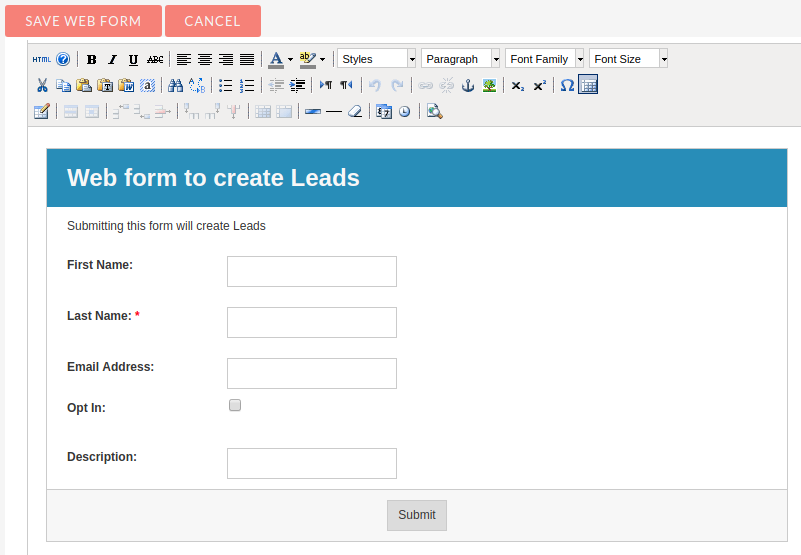 Once you are happy with the appearance of your web form click SAVE WEB FORM
Save Form
To save the web form you have just generated either:
Click on the Web to Person Form link to download the web form into your download folder OR

Copy and paste the HTML into an existing web page. Note the line to include in the <head> section of the web page.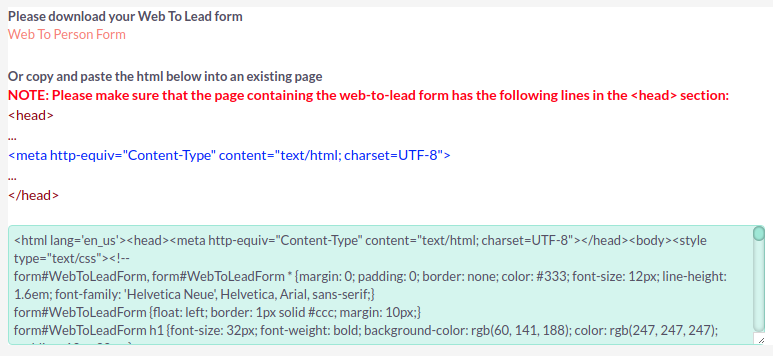 Please note that the web form will not be stored anywhere else in SuiteCRM. To ensure the form is saved please carry out one of the two steps above.